Email records recently acquired by the Employment Policies Institute (EPI) show that researchers at the University of California, Los Angeles (UCLA) have been seemingly more interested in partnering with labor activists than doing objective research.
UCLA's Labor Center boasts about producing quality research that "lifts industry standards." In fact, the Labor Center has been a vocal voice in favor of California's Fast Food Accountability and Standards Recovery (FAST) Act, a "controversial" proposed bill that industry voices have warned would be a burdensome "food tax" on Californians.
A recent EPI study found that labor unions' case for the FAST Recovery Act is not supported by the state's own data. Now, new records reveal that the unions' own reports are undermined by the biased and unscientific process used to assemble them.
The records concern a January 2022 study produced by the UCLA Labor Center, on the impact of COVID-19 on fast food workers, which has been frequently cited as a justification for passing the FACT Recovery Act. While the report was portrayed as a scholarly UCLA product, documents reveal that the study specifically was part of a larger advocacy strategy by the SEIU and its Fight for $15 campaign.
For instance, the data in the January 2022 study on the impacts of COVID-19 on fast-food workers was based on convenience surveys done by "staff" members of Fight For $15, and recruited by other aligned activist groups. This email describing the process was sent to Manuel Villenueva of the Restaurant Opportunities Center; Janel Bailey of the LA Black Workers Center; and Jessica Sykes of KIWA (Koreatown Immigrant Workers Alliance).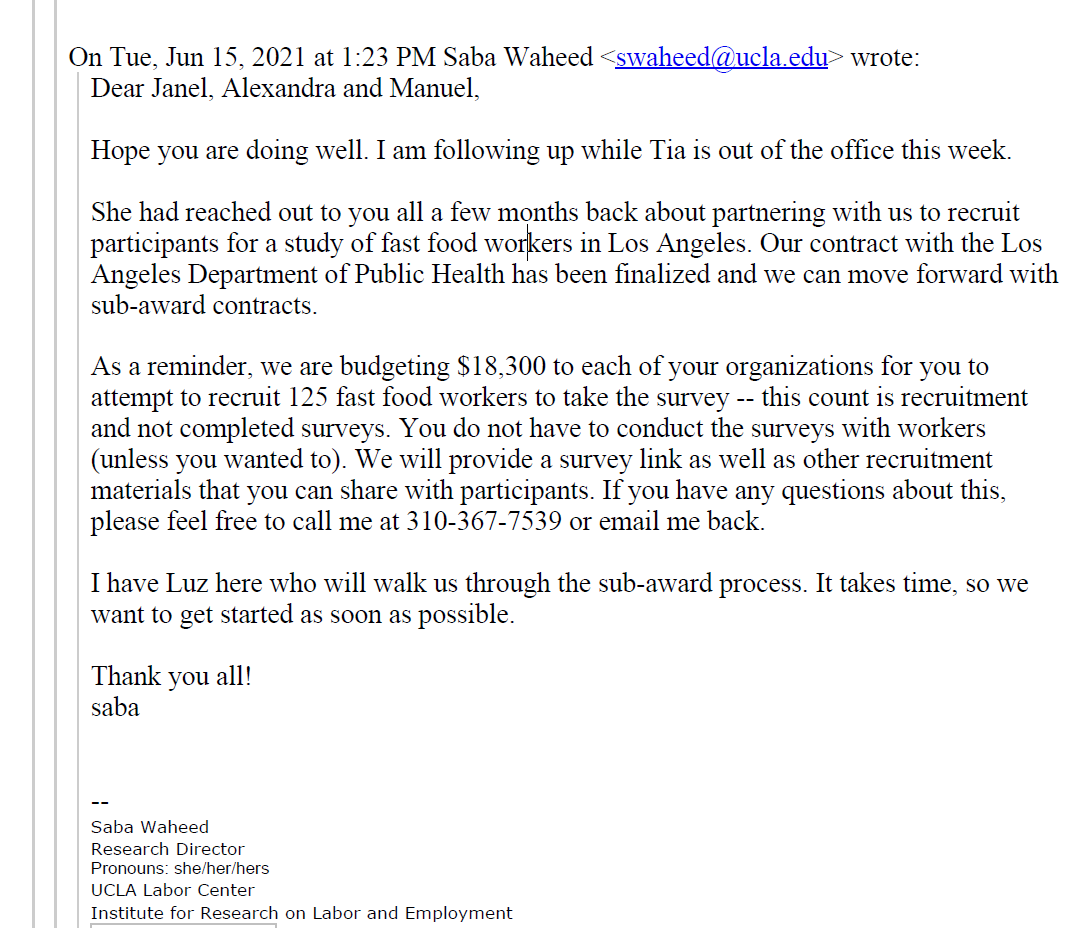 In another exchange, SEIU listed all the Fight for $15 organizers who were also involved in obtaining survey responses, and confirmed that all were "staff."
Not only did UCLA outsource the survey and recruitment work to labor groups, but those labor groups even took efforts to obscure some of what was going on. In an April 2021 email, a member of Fight For $15 asked UCLA to hide the identity of one of its staff members who was being used to conduct the surveys. This may be because Mr. Perez has elsewhere been described as an independent fast food worker.
In January 2022, UCLA received several media inquiries after publishing the study. Many of these journalists specifically inquired about talking to workers who had been impacted by COVID-19. The Labor Center's response? To directly coordinate with labor groups to supply workers for interviews. In one particularly revealing instance, the director of communications for the Labor Center connected the reporter with her "colleagues" – employees at SEIU and Fight For $15.
Another sign of the planned media strategy around the report was an exchange between a reporter for the San Francisco Chronicle and a communications manager for the SEIU (again, set-up with help from UCLA). Thanks to this email, we know SEIU had used PR firm Berlin Rosen to help with media interest on UCLA's report. (Nina Wheeler is an account supervisor with BR.)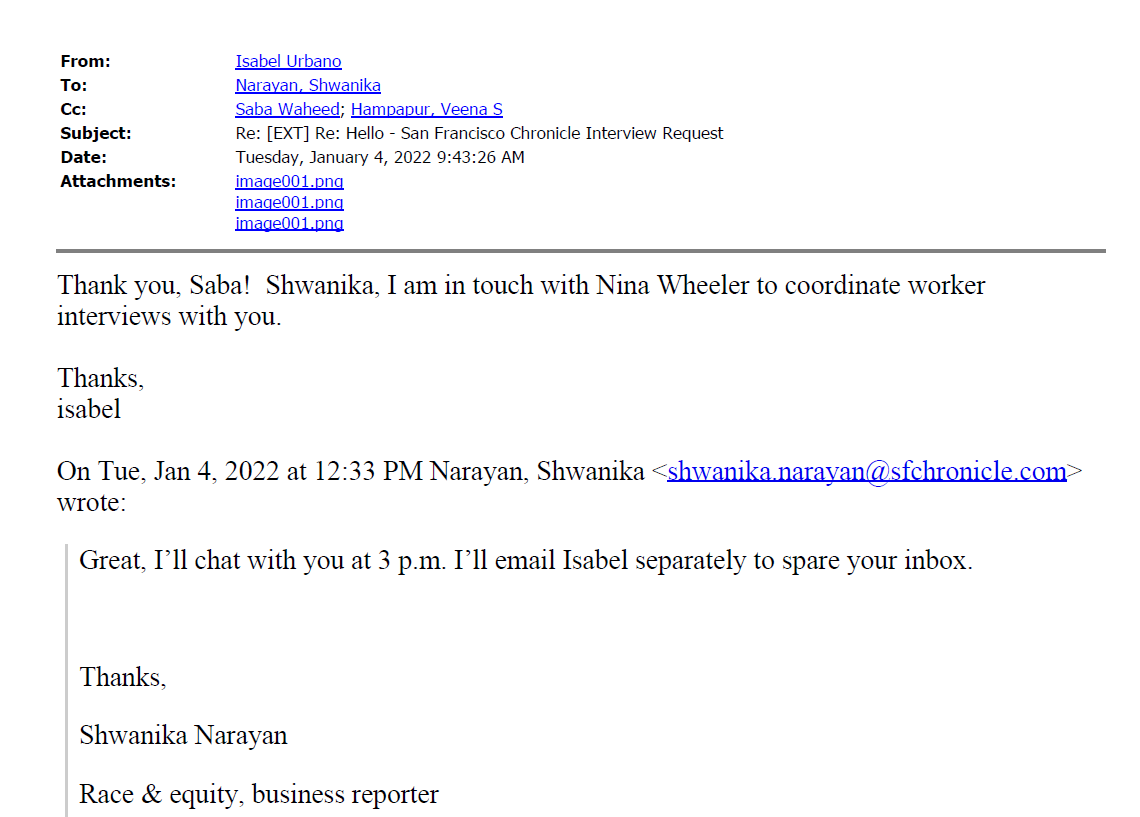 Elsewhere, the union fed preferred academics such as the Berkeley Labor Center's Ken Jacobs "talking points" about the FAST Recovery Act to deliver in testimony before the state legislature.