Maryland Governor Wes Moore is leading the charge to accelerate raising the state's minimum wage, claiming he wants it to increase when inflation does throughout his campaign. But regional inflation data shows growth in the statutory minimum wage has already surpassed the rate of inflation.
State lawmakers are jumping on the bandwagon, also targeting the state's base wage for tipped restaurant employees.
Two bills have been introduced this month to raise the state's minimum wage: Senate Bill 555 would increase the regular minimum wage from $13.25 to $15 per hour on October 1, 2023, removing distinctions for large and small employers, and enacting inflation adjustments beginning in July 2025. In addition, Senate Bill 803 would eliminate the state's tip credit by 2027, raising the base wage for Maryland's employees who regularly earn tips from $3.63 per hour up to the regular minimum wage rate, scheduled to be at least $15 with additional inflation adjustments, in just a few years.
A quick look at data on the regional Consumer Price Index shows Maryland's existing statutory minimum wage has more than doubled inflation since 2000. The regular minimum wage for employers with at least 15 employees has grown 157 percent over the last two decades (and grown 148 percent for smaller employers), compared to just 76 percent inflation over the same timeframe.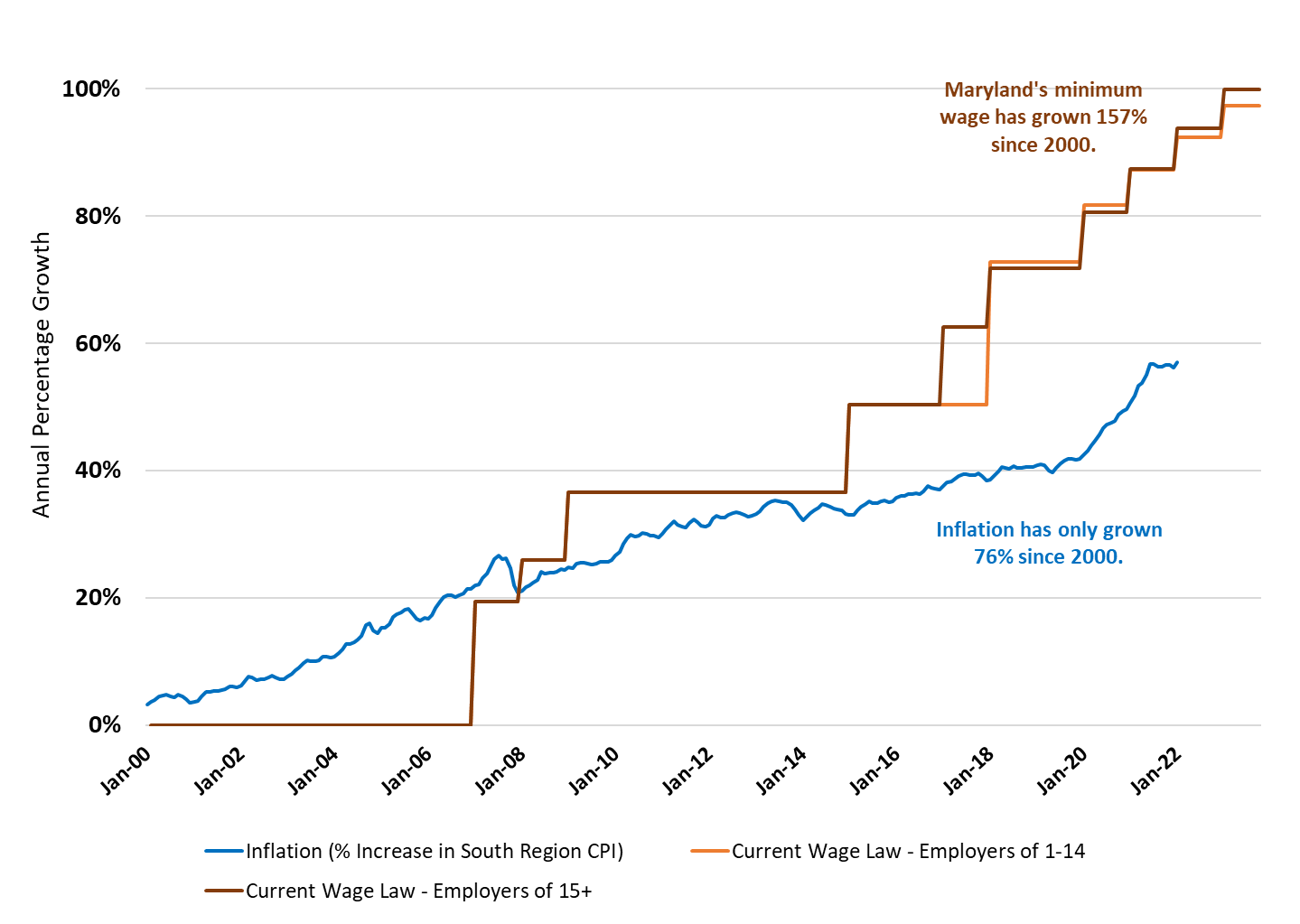 Both legislative proposals to raise the regular and tipped minimum wages to $15 are well beyond the realm of inflation. In fact, if the state had tied the statutory minimum wage to inflation back in 2000, the value of the minimum wage today would only be about $8.72 per hour. Yet, current lawmakers want to lock in these unprecedented high rates and now start annually increasing them.
Economists have demonstrated that such drastic hikes are bound to cause hardship for businesses and their employees. Drs. William Even and David Macpherson from Miami and Trinity Universities estimated a federal $15 minimum wage could cost Maryland as many as 7,179 jobs. The proposed acceleration of the existing schedule to reach $15, pushing for a 2023 target date instead of 2025 (and 2026 for smaller employers, would give employers even less time to adapt to the increase.
In fact, Bureau of Labor Statistics data finds the state's leisure and hospitality industry, which employs the majority of minimum-wage earners, experienced stagnating employment growth in the years prior to the pandemic. Averaging roughly 3% annual employment growth earlier in the decade, Maryland's leisure and hospitality growth rate ground to a halt, coming in at just 0.26% growth in 2019.
Another state-level analysis finds eliminating Maryland's tip credit alone could cost the state up to 6.2 percent of total employment, and cost tipped workers as much as $44 million in earnings. They estimate the average income loss for families of tipped workers could be as high as $2,530 per year.
While Maryland lawmakers are falling prey to the allure of the Fight of $15 slogan, the state's history of wage hikes have already surpassed inflation. Proposed increases could cause extensive harm to the state's businesses and employees.