Restaurant owners and their employees have warned that state and local attempts to eliminate tip credits will lead to negative consequences for their earnings and restaurants.
Most recently, the District of Columbia took the plunge to begin eliminating its tip credit, despite warnings from concerned owners and employees. When voters passed Initiative 82 back in November 2022, restaurants scrambled to adapt to the upcoming changes. One of these adjustments was the introduction of service charges in eateries across the city.
Diners are expressing confusion over whether or not to tip amid the changing landscape, and expressing frustration over the changes coming to their local restaurants. This phenomenon is not just anecdotal: research from Cornell University finds as tipped minimum wages increase, tipping declines. Recent data from Toast shows states that have fully eliminated their tip credit experience some of the lowest average tip percentages in the nation.
In Chicago, city council members introduced legislation to eliminate the city's tip credit earlier this month. Yet even before this recent development, Chicago's tipped minimum wage has been rising since 2015, which has already taken a toll on restaurants. As a result, Chicagoans have already begun compiling a list of restaurants via Reddit that are bracing for the ill-fated change with service charges; locals have counted over 130 area restaurants with surcharges to customers' bills. Commenters added how they would react if the city fully eliminates its tip credit:


A common theme among users is confusion over whether service charges should count as tips:

Diners in Los Angeles, which are subject to California's anti-tip credit laws, have also taken note of a rise in surcharges and confusion over tipping. Reddit users have compiled more than 200 local restaurants that employ these surcharges on customers' bills.
Some users debated whether California's flat minimum wage laws for front-of-house restaurant staff mean tipping is not necessary: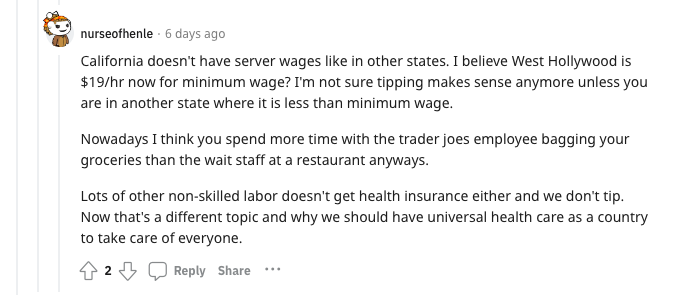 Others commented on how their tipping behavior could change as more restaurants introduce service charges:

As lawmakers contemplate changes to the existing tip credit model across the country, they should heed employees' warnings on the ground that such policies will seriously alter their ability to earn tips.